The Directorate General of Training ( DGT ) is the apex organization for development and co-ordination at National level for the programmes relating to vocational training including Women's Vocational Training and Employment Services. Industrial Training Institutes are under the administrative and financial control of State Governments or Union Territory Administrations. DGT also operates Vocational Training Schemes in some of the specialized areas through field institutes under its direct control. Development of these programmes at national level, particularly in the area concerning common policies, common standards and procedures, training of instructors and trade testing is the responsibility of the DGT.
NATIONAL  SKILL TRAINING INSTITUTE, Chennai was established in 1968 under the aegis of Directorate General Training (DGT), Ministry of Skill Development and Entrepreneurship , Government of India, New Delhi with the assistance from United Nations Development Programme (UNDP) / International Labour Organisation (ILO) to impart training and updating the skills of Engineers / Supervisors / Technicians / Executives of Industrial personnel & faculties of educational institutions through courses of short duration conducted in modules and Tailor made courses as per the specific needs of their Industries / Govt Estt. / PSUs / Technical Institutions. The courses are conducted for higher skill upgradation through intensive skill oriented training by using the latest version of equipment and machinery used in industry.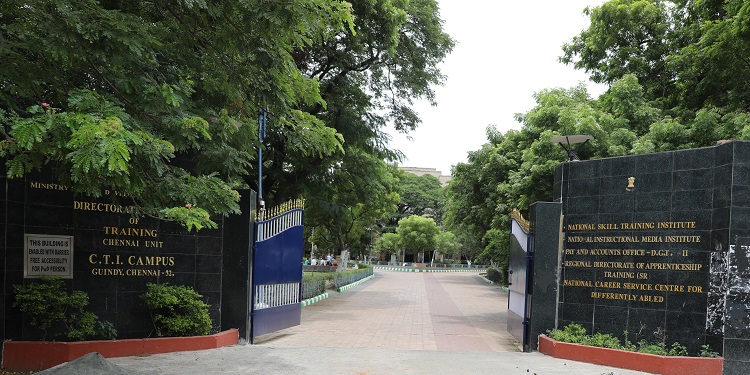 NSTI Chennai provides innovative, effective and integrated training opportunities for people who need new skills to enjoy the dignity that comes with employment, independence and self-reliance. 
To continuously hone the skills of industrial workforce for higher productivity bridging the gap between academics and industries for suitable placement for young generation in technical fields. 
This institute is entrusted with the mission of producing systematically trained Craft Instructors to meet the huge demand of various industrial training institutions in our country.
It conducts Craft Instructor Training Scheme (CITS) in 15 TRADES and has been upgraded as a Centre of Excellence (CoE) under World Bank assisted VTIP to train the Instructors of Government under Production & Manufacturing Sector.Committing to a structured Quality Program that satisfies the requirements as outlined in ISO 29990:2001
Committing to provide Quality Training and related services to the trainees;
Involving industry in both the Development and Evolution of our training programs and courses ensuring that standards are maintained and improved by active monitoring, reviewing and improving all activities
It is centrally placed in Chennai with well designed Workshops / Laboratories with modern sophisticated equipment / machinery both imported and indigenous. Canteen, Dispensary and Hostel facilities are also available at this institute. The NSTI is located in a campus of 32 acres at Guindy Industrial Estate in the heart of Chennai city surrounded by various Micro, Small and Medium industries, as well as reputed institutions like IIT, Anna University, MSME, NSIC, CIPET etc.
This campus also houses:
National Instructional Media Institute ( NIMI )
Vocational Rehabilitation Centre for Handicapped ( VRC )
Union Bank of India ( UBI )